My nights have been upended in terms of the leisure I once enjoyed.
Pre-kid, and pre-marriage, I would get home from work at 6-6:30PM, put on some comfortable clothes, and lock in for a night of media consumption. This consisted of screens showing sports, binge-worthy television shows, and movies, as well as magazines, news, and books. I was a machine of multi-media destruction. I loved the attention deficit-busting attributes of the process.
Because of this, I was someone who had the most up-to-date knowledge on almost everything at any time.
As a married parent, you learn to pick-and-choose your knowledge. There is only so much bandwidth to ascribe to the "non-essential" day-to-day world.
In terms of sports, I start watching at 8:00 PM eastern time, after bathing, reading to, and putting my son down to sleep. The games do not have my utmost attention, as they once did. I am in-and-out of cleaning up the living room and assisting my wife in putting the house back to some semblance of normal (a never-ending task when a toddler is involved).
We then eat sometime after 8:30. I continue to watch from my kitchen table, which has a direct view to my 60-inch television. It's probably 25 feet away, but not a bad setup. And I really need to be conversing with my wife, seated to my right, because we haven't talked that much to that point in the day.
Therefore, you are not "locked-in" to the games. You get the gist of the proceedings, but not the minutiae.
I try to follow-up - and keep up - by DVR'ing SportsCenter each morning. SportsCenter is kind of a mess, though, and half the episode is spent telling you what is coming up at 7:08, 7:14, 7:26, and on. I am apparently one of the few who still wants highlights in a curated fashion, and I don't get that any more.
It kills me that I am not hyper-current on the sports world any more. I love being a dad and husband, of course, but it still tugs at me.
It is this long preamble that leads me to the point of this article.
Last night, with my son down for the night, I made a beeline for the couch and put on Cleveland Cavaliers-Indiana Pacers Game 3. My wife had some errands to run so it was just me for a half-hour. I could give my full attention to the game, and actually observe the minutiae.
At that point, however, the Cavaliers were down big - real big. Like 20 points.
In came the doubt in my mind that Cleveland - inconsistent throughout this season - could not match last year, when they steamrolled the eastern conference and won the NBA Championship, coming back from a 3-1 deficit against the Golden State Warriors.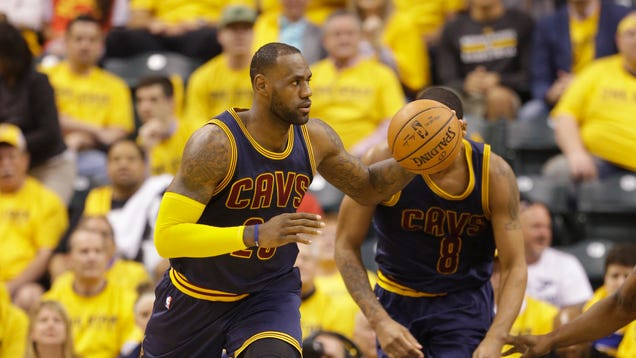 No matter what they do in the regular season, I will always bet on LeBron James to navigate his team to the NBA Finals. I have learned to disregard all of the struggles, controversies, and rumors that pop up during the long slog. I believe all of the postseason success is partially the reason for those struggles: how do you get up for regular season games when you are basically preordained to graduate to the final round? It's simply senioritis.
But, crazy things happen, and we have plenty of proof of that over the last year, the 2015-16 Cavaliers among them. You are always right, until you are not.
Down 25 at halftime, and having given up 74 points in the first half, Game 3 was the kind of game the Cavaliers could give up and play for tomorrow. Use the loss as motivation, win Game 4, and then close it out at home in Game 5. We've seen that script plenty of times.
Then LeBron James decided he wanted Game 3, orchestrating a NBA playoff-best second-half comeback. On the road. When it was all over, James had 41 points, including six three-pointers, 13 rebounds, and 12 assists. It was a tour-de-force. He hit from range like Stephen Curry, and athletically commanded the floor like Russell Westbrook. His magnificent drive-and-kicks found last year's import, Channing Frye, and this year's, Kyle Korver.
We always want to move on to the next big thing, but we need to appreciate the eternally big thing. James has moved into prime-era Shaquille O'Neal. As an opponent, you can stay with his team, you can push out to a big lead, but in the end he is going to win. There is nothing you can do about it. You will look feeble in your attempts. You can be thankful there is a clock and hope that it ticks down before he gets you, but that is your only recourse.
I love watching the Warriors, and root for them to win the championship. But as long as LeBron James is still around, LeBoogie Man will find you.